Dania Davy just wants for her daughter to see the future.
Strapped to her back, Davy, 34, carried her sleepy 2-year-old toddler in a crowd of thousands marching against sexism, racism, xenophobia and other forms of oppression at the Women's Rally of Central Florida at Lake Eola Park in downtown Orlando. Her child may not remember the colorful signs, pink hats or jubilant chants, but Davy will remind her years from now that on the first day of President Donald Trump's term, they fought back together.

"I just want her to know that whoever represents this country as president—that's just a symbol," Davy says. "That's not America. Everyone that's here is really what America is. She's only 2, but I want her to learn from a very young age that every individual person has a democratic right to participate in this country."
Photo by Monivette Cordeiro
Gricel Fernandez, co-organizer of the Orlando march, says she and her co-organizer Autumn Garick thought about 500 people would come when they first created the rally. More than 6,000 people ended up registering for the event.
"We want people who come to realize democracy is something you take part in every single day," she says. "It's not just every four years. If an issue matters to you, it should matter to you every day...Even though you may just be one person, one voice, it doesn't matter. I am one person and made one phone call, and now all these people are here."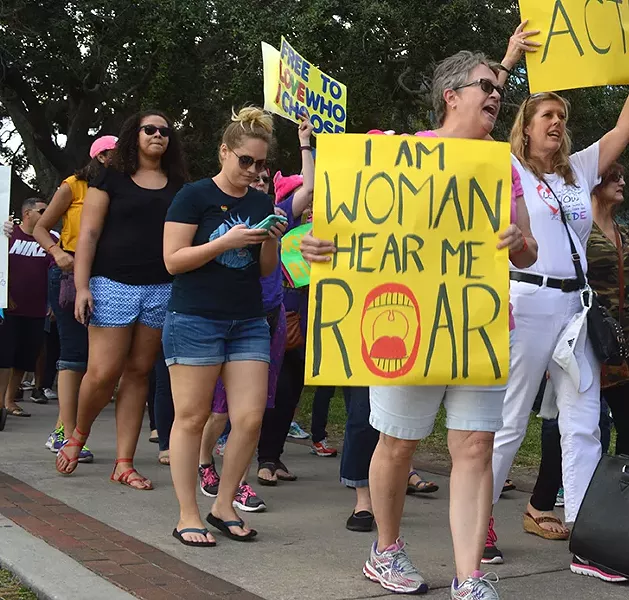 Photo by Monivette Cordeiro
On the stage of the rainbow-colored Lake Eola bandshell, several women gave impassioned speeches about how to resist Trump's administration for the next four years. Rasha Mubarak, the Orlando coordinator for the Council on American-Islamic Relations, says people often confuse a state of being neutral with righteousness.
"That motion goes against what morality truly stands for," she says. "To be neutral in times of justice is to be an essential and indirect contributor to the transgressor...The most destructive of its kind is a fatal silence."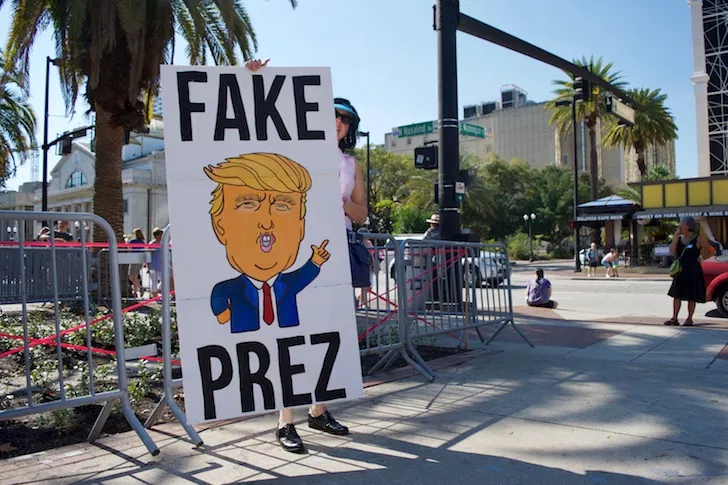 Lifting a poster at least six feet tall with an orange Trump cartoon identified as a "Fake Prez" into the air, Eileen Lee, 53, an Orlando resident who works in medical records, says that she doesn't view President Trump as legitimate.
"I think he's a fake president. He's not a real president because the way he was elected was in a false and phony and underhanded way," Lee says.

"The first couple of weeks, I cried every day thinking about it," she adds. "I used to watch the news all the time ... but I can't. If I start listening or reading, I get upset and I just have to turn it off."
While many participants painted posters, some artists took their inspiration to other canvases.
Shannon Holt, an Orlando-based body painter, spent time during the event painting models to resemble the artwork of Shepard Fairey, famous for the Obama "Hope" poster. She says the project was about visibility.

"It's about being seen, coming out for this cause," Holt says. "I'm an artist, so real artists contribute to what they believe ... I'm just using my art as a vehicle for communication."
Royalty even graced the event as the masses congregated around the amphitheater.
A sparkling crown atop her head, Naysa Smith, a senior at Wekiva High School who was recently selected as Miss Black Teen Florida U.S. Ambassador, greeted participants and encouraged them to share their reasons for marching.

Smith says she came out to support for rally because of her belief in the importance of women's rights.

"It is important that we show ourselves as the queens we are in our community and that we stand in solidarity with the women who marched before us and the women who will continue to march in the present and in the future."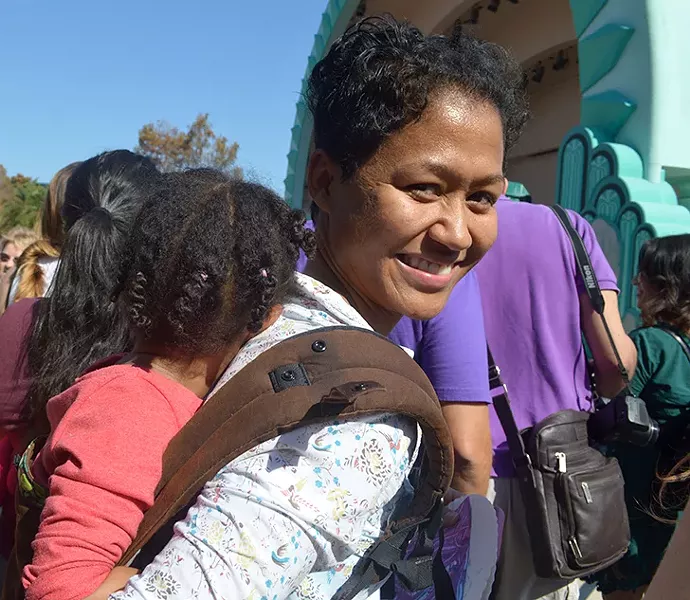 Photo by Monivette Cordeiro
Davy says as an immigrant and a woman of color, she has struggled with the way traditional feminism has focused on white women and their concerns. She wanted to physically be present with her daughter at the march so "that truth can't be erased" and to remind people "there's not a monolithic vision of what women's rights are." Despite the Trump administration's plans for the country, Davy says she has hope.
"I'm heartbroken that this person that's such a racist, such a xenophobe, such a homophobe has so much access to the media to represent what America is supposed to be," she says. "But I refuse to accept that's what the future is going to look like. That's why I fight. That's why I march. That's why I struggle."
In a strong rebuke to newly inaugurated President Trump, his campaign rhetoric and the policies they believe could endanger their rights, millions of people gathered in Orlando and hundreds of other cities across the world in demonstrations supporting the Women's March on Washington. The women who organized the march asked "all defenders of human rights" to join them in protecting the rights of women of all races, immigrants, Muslims and people of other faiths, LGBTQ people and other marginalized groups.