(Tampa, FL, 8/30/17) - The Council on American-Islamic Relations
 - Florida (CAIR-Florida), the state's largest Muslim civil liberties and advocacy organization, today have decided to respond to those affected by the floods in Houston. CAIR-Florida is working alongside with Penny Appeal USA, and ISTABA to help aid and supply displaced families. 
During Natural Disasters, there's no time to waste.
Hurricane Harvey may go down as the worst flood disaster in U.S. History. The Category 4 hurricane has dumped more than 20 inches of rain in some areas, has caused deadly flooding, electrical shortages, deaths, and may drive more than 30,000 families to shelters. 
We need all of our congregants and Tampa Bay neighbors to urgently help by dropping off essential supplies to ISTABA Tuesday, August 29th at 5pm. We will be collecting until Maghrib prayer on Wednesday, August 30th. We have supplied large Uhaul trucks which we will be driving to Houston on Thursday morning. All supplies will be delivered to the Islamic Society of Greater Houston who are running a number of shelters throughout the city. 
MOST NEEDED ITEMS
Cleaning Supplies: (sponges, bleach, dishwasher liquid, laundry detergent, paper towels, toilet paper, trash bags)
Hygiene Supplies: (soap, toothbrushes, toothpaste, deodrant, diapers, baby wipes)
Food & Water: (Water, canned food, rice, oil, crackers, juice, cereal, kids snacks, evaporated milk, sugar)
We encourage all members of the community to step forward during this time of need. Please drop off all supplies ASAP.
Thank you 
CAIR-Florida team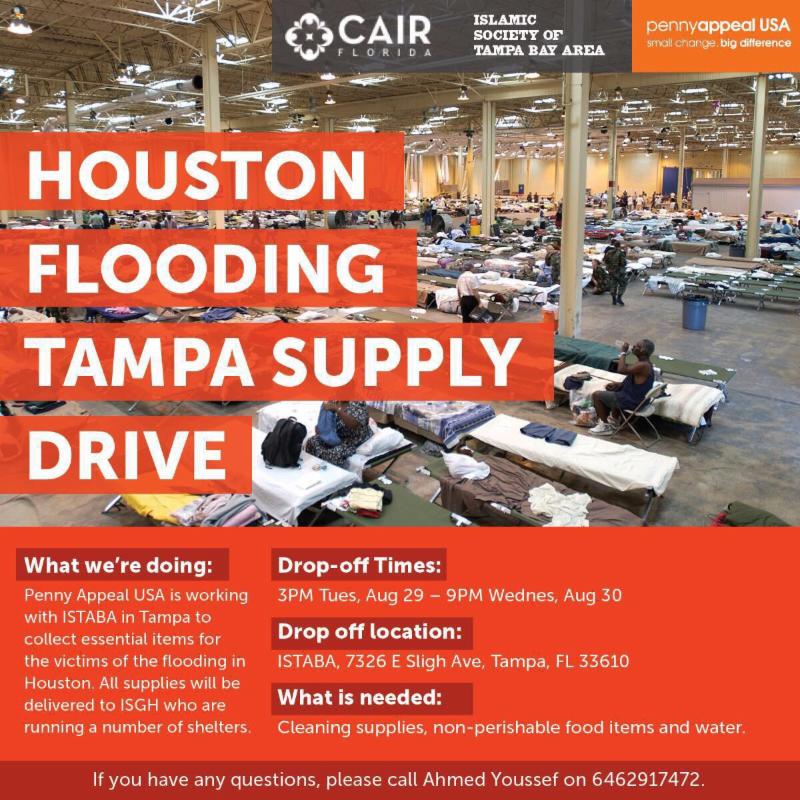 Media coverage of this event is welcomed.
CAIR-Florida is the state's largest Muslim civil liberties and advocacy organization. Its mission is to enhance the understanding of Islam, encourage dialogue, protect civil liberties of all people, and build coalitions that promote justice and mutual understanding.
La misión de CAIR-Florida es mejorar la comprensión del Islam, fomentar el diálogo, proteger las libertades civiles, capacitar a los musulmanes estadounidenses, y construir coaliciones que promuevan la justicia y la comprensión mutua.
CONTACT:
CAIR-Florida's Communications Director, Wilfredo A. Ruiz, 
This email address is being protected from spambots. You need JavaScript enabled to view it.
, 305.502.6749
CAIR-Florida's Interfaith & Youth Program Director, Aida Mackic, 
This email address is being protected from spambots. You need JavaScript enabled to view it.
, 813.514.1414