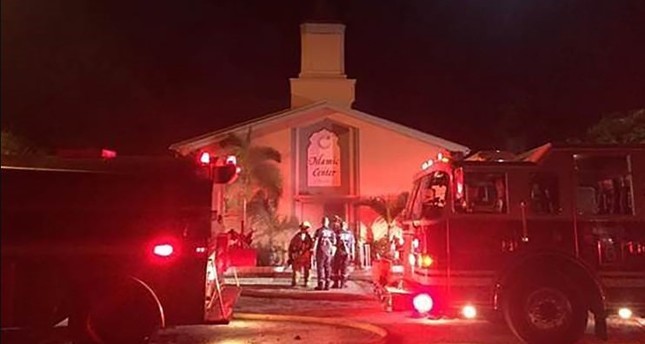 The Florida mosque where Orlando nightclub shooter Omar Mateen worshipped was targeted in an arson attack early Monday, authorities said.
Fire crews responded to a 911 call at 12:31 am reporting that flames were coming out of the Fort Pierce Islamic Center, Major David Thompson of the St. Lucie County Sheriff's Office said.
Security video showed an individual approaching the building from the east, he said.
"Immediately after the individual approached, a flash occurred and the individual fled the area," Thompson said.
"Evidence has revealed that this fire was set intentionally," he said. "The sheriff's office is currently investigating this as an arson."
No injuries were reported and the extent of the damage was not immediately clear.
Photographs posted on the sheriff department's Facebook page showed fire engines parked in front of the building, a former church, with the facade appearing undamaged.
Authorities were working on enhancing the security video to help identify the perpetrator.
Thompson declined to speculate on a motive, but noted that it came shortly after the 15th anniversary of the 9/11 terror attacks on the United States.
"We all know the implications of the date... Is that related? I would not want to speculate but certainly that is in the back our minds," he told reporters.
The attack also came as Muslims worldwide prepared to celebrate Eid al-Adha, Islam's feast of sacrifice.
The Fort Pierce mosque's gathering on Monday was moved "to another area and they're going to allow us to conduct our investigation so we can hopefully determine who set it," Thompson said.
The Florida director of an Islamic advocacy group says it's disconcerting that a mosque was set on fire on one of the two biggest holidays on the Muslim calendar.
Wilfredo Amr Ruiz is Florida's director of the Council on American-Islamic Relations. He decried what he called escalating violence directed at the Islamic Center of Fort Pierce.
Ruiz noted that after the shootings the center received threatening voicemails. Then people driving by splashed water on people leaving Friday services. In July, a member was beaten outside the mosque.
He says they've hired private security, and the St. Lucie County Sheriff's Office has given mosque officials a direct line to contact the agency so they don't have to call 911.
Forty-nine people were killed and another 53 injured on June 12 when Mateen, a 29-year-old US citizen of Afghan origin, opened fire on the Pulse gay nightclub in Orlando. Mateen was killed by police.
The mass shooting was the deadliest in modern US history.